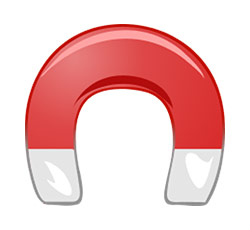 Put your team on the map!
We make fundraising car magnets for every conceivable team sport, and soccer is one of the most popular.
Soccer teams and soccer leagues face the same fundraising hurdles faced by every youth sport. Without fundraising, the parents would need to pay even more in league fees and the other associated expenses. I'm not sure why, but some leagues are still trying to sell candy, popcorn and other food related items. It seems as though the food fundraiser's time has come and gone. What's really popular now are "team branded" fundraising items.
Team branded fundraising items can include things like t-shirts, notebooks, hats, and of course… car magnets. The reason that these team branded items are popular with the kids is that it gives them a chance to show off to the rest of the world who they play for. The reason that parents love team branded items is that they provide a larger profit than almost any other fundraising item.
Which of the above items provides the most exposure? T-shirts provide tons of exposure… when you are wearing them. But you can't wear them every day; eventually they need to be laundered. And after several cycles through the washing machine these t-shirts are good for nothing more than waxing the car.
Stick your soccer team car magnet on the back of your car and the exposure is amazing. How many cars a day do you think will be staring at your magnet at stop signs, in the mall parking lot, on the freeway… hundreds every day if you live in a small town and thousands every day if you live in a larger community. Your car becomes a moving billboard for your kid's team. And if you think this does not matter to your young soccer players, you are wrong! This car magnet will turn your pathetic family car into a totally rad soccer car. Seriously, ask your soccer playing kids.
Our design team can take your soccer logo and turn it into a car magnet that your young stars can be proud of and it is so easy to get started. We just need to know a little bit about your team… colors, mascot, logo, etc. and then we'll unleash our talented artists on your project. In about a day you'll have a magnet design that any MLS team would be proud of.
To get started, call us at 760-743-6340, or visit our website at www.arcmktg.com
https://www.arcmktg.com/wp-content/uploads/2014/10/logo-icon.jpg
230
250
Russ
https://arcmktg.com/wp-content/uploads/2014/11/logo.png
Russ
2016-10-20 05:44:50
2018-01-04 09:14:36
Soccer Car Magnets