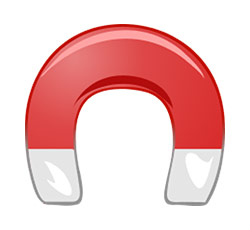 Okay, it's the middle of August, and your PTA/PTO still hasn't finished their fundraising. Well, today could be the day that you can finally say "We're Done!".
The car magnet experts at ARC Marketing can design, print and deliver your new custom magnets in about 2 weeks. That means in about 14 days, your parents could be rockin' your new magnet on their cars, trucks, mini vans, SUV's and more.
Want to use this magnet in your refrigerator? No problem; this is a fridge-magnet on steroids. The magnetic strength of this magnet is about 10 times as strong as your typical fridge magnet. You can hold up a week's worth of homework with this magnet. The days of slamming the fridge shut and having everything fall to the kitchen floor are over.
On your car, on your fridge, on your school locker… this magnet is going to put your school on the map and your fundraising on the fast-track to success.
How much can you sell these for? Quite a few schools are selling them for $10 each with no price resistance. Most parents realize that the money they pay for the magnet is a donation to the PTA, and the magnet is a gift for their donation, so in essence… money is no object.
How much money can you raise with our magnets? Let's say you have us print 250 magnets at $2 each (your cost). Now let's say you sell them for $7.50 each (that's the average fundraising price). That's a $5.50 profit on each magnet. Sell all 250 magnets and your PTA will raise $1,375. Try doing that with magazine subscriptions. Have a bigger school? Order more magnets and double your profits.
Now, we're not saying that our car magnets are going to be all you need to do for fundraising this year, but custom car magnets should be part of your fundraising "mix".
Let us help you get started with a free magnet design created just for you by one of our expert designers. It's fast, it's easy and it's free. Just fill out a simple form, giving us an idea of how you would like your magnet to look, and we'll get a design to you ASAP. Just click here, or give us a call at 760-743-6340.
https://www.arcmktg.com/wp-content/uploads/2014/10/logo-icon.jpg
230
250
Russ
https://arcmktg.com/wp-content/uploads/2014/11/logo.png
Russ
2016-08-11 06:41:29
2018-01-04 09:43:29
Fundraising Car Magnets for your School