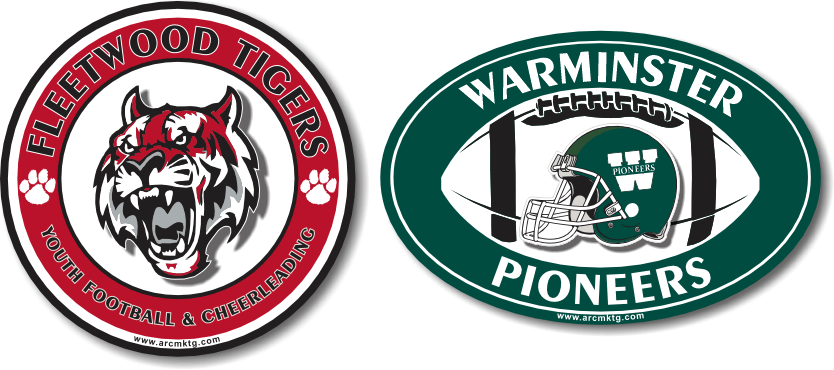 Don't Let the Season Slip By: Fundraising Football Car Magnets Can Still Save the Day
Season Already Started? No Worries!
Is your youth football team in the midst of the season? Don't stress. If your fundraising efforts haven't quite hit the mark yet, there's good news. ARC Marketing can turn things around for you, even if the season has kicked off. Procrastination doesn't have to be your downfall.
ARC Marketing specializes in creating custom car magnets that make an impact. These aren't generic items; they're personalized to represent your youth football league. Picture this: Your team's logo, vibrant colors, and a design that captures the spirit of the game—all on a magnet. Place it on your car, and instantly become a mobile billboard for your team.
Quick Turnaround Time
Think it's too late to get started? Think again. ARC Marketing offers a quick turnaround time. That means you can have your custom magnets ready for distribution even if you start today. No time is a bad time to boost your team's morale and fill those funding gaps.
Magnets Make Young Players Feel Like Pros
Fundraising is vital, but these magnets offer another benefit that's priceless. Imagine the young players' eyes lighting up when they see their team's logo on cars around town. It's more than just a magnet; it's a badge of honor. It's a symbol that makes them feel like the pros they aspire to be. Every time they see that magnet on mom or dad's car, they'll feel a surge of pride and excitement. It's an experience that enhances the joy and passion for the game.
Why Choose ARC Marketing?
So, why ARC Marketing? Simply put, they are experts in designing custom car magnets that resonate. Whether it's your first time fundraising or you're looking to rejuvenate your efforts, they have you covered. The quality is top-notch. The colors are vibrant. And the design? Absolutely eye-catching.
An Affordable Solution
Budgets can be tight, especially for youth sports. ARC Marketing offers an affordable solution without compromising on quality. A custom football car magnet is not just another piece of merchandise. It's an investment that pays off in both funds and team spirit.
Easy to Distribute
Another benefit is the ease of distribution. These magnets are lightweight and easy to handle. You can distribute them at games, events, or even door-to-door. The best part? People love to support local youth activities, and a magnet on their car makes it easy to do so.
Summary: Your Procrastination Doesn't Have to Penalize You
Running a youth football league involves a lot of work, and sometimes things slip through the cracks. If you haven't started fundraising or if your efforts are falling short, don't worry. With ARC Marketing's help, you can still come out on top. Custom car magnets offer an easy, effective, and quick way to turn your fundraising around. Plus, they make your young gridiron stars feel like pros.
So what are you waiting for? Contact ARC Marketing today and see how a custom car magnet can change the game for you. Visit our website at www.arcmktg.com or give us a call at 760-743-6340.
https://www.arcmktg.com/wp-content/uploads/2014/10/logo-icon.jpg
230
250
Russ
https://arcmktg.com/wp-content/uploads/2014/11/logo.png
Russ
2023-09-04 10:07:45
2023-09-04 10:07:46
Don't Let the Season Slip By: Fundraising Football Car Magnets Can Still Save the Day