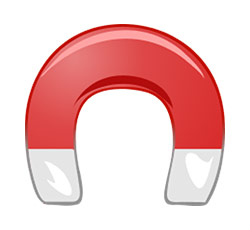 Designing a powerful, effective car magnet is not difficult, but not everyone can do it! Let the experts at ARC Marketing help.
Which do you think would make a more effective car magnet…
A simple centered logo, with one or two colors, with just a few words above and below the logo.
A simple centered logo and lots of words to get your message out there
Intricate detailed logo, with lots of colors, and lots of words to get your message out there
Actually, the answer is #1 (most of the time!). Although all of these magnets would cost the same (we do not charge more for extra colors, nor do we charge for the time our artists spend working on your design) so if intricate and detailed is what you want… go for it.
If you think about the nature of a car magnet, then a simple design might be the most effective. Remember that most people are going to see your magnet on a moving car. That moving car could be going 65 mph. if your car is standing still, your magnet is still going to be viewed from several car lengths away. When you take this into consideration, then #1 looks like the winner.
Sometimes, your school name just cannot be abbreviated and the message you want to convey cannot be shortened (the more words you use, the smaller the letters will be). Sometimes the logo you have to work with is just a very detailed piece of artwork. Sometimes your mission statement is so critical to your magnet that it needs to be included, no matter what. Well, in that situation, we encourage you to go for it. Even these detailed, wordy magnets get read. They just need to be on a parked car. If that car is in a parking lot at the mall, or at a football game, hundreds of people will be walking past it and noticing it. OK, so now #2 or #3 is looking like the winner.
How do you know which way to go? Of course we have an answer for that too. As mentioned earlier, we do not charge you anything for the time our artist spends working on your design. So why not request two designs? Get a simple one, and get a complex one… then compare them and choose the stronger of the two. Getting started on the design is easy; just fill out our "Virtual Magnet" request form twice (one for each design). You can find that on our website by clicking this link: Free Virtual Magnet.
Any questions? Just give us a call at 760-743-6340!
https://www.arcmktg.com/wp-content/uploads/2014/10/logo-icon.jpg
230
250
Russ
https://arcmktg.com/wp-content/uploads/2014/11/logo.png
Russ
2015-12-22 16:05:34
2018-01-04 10:56:28
Design a Powerful, Effective car magnet.