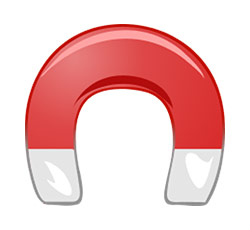 Okay, so you've decided to use custom car magnets as part of your fundraising efforts. What is more important to you… bringing awareness to your group, or maximizing the money? Sometimes, a more "generic" magnet can appeal to a larger target audience than a specifically designed magnet.  This means that your income potential can be many times greater.
McVey Elementary PTA, in East Meadow, New York had us design the attached magnet for their fundraiser. As you can see, the words "McVey Elementary" do not appear anywhere on this magnet. Instead, they put their town name on the magnet in their school colors (also the school colors of the Middle School and the High School).
A magnet that said "McVey Elementary" would undoubtedly be very popular, and every parent with a student at the elementary school would want one. So you might sell 250 or so magnets.
But if you do what the McVey PTA did, and create a community themed magnet, you could sell 10 times as many. With the "East Meadow" magnet, every parent and student in all 3 schools will want one, plus residents of East Meadow without kids in school will want it just for civic pride.
It won't be long until thousands of these cool "East Meadow" magnets are on cars everywhere in East Meadow, New York.
Put your town on the map, and your fundraiser into overdrive by selling a more generic "Community Themed" car magnet. Our design team will help you create your new magnet for free, so give us a call at 760-743-6340 today!
https://www.arcmktg.com/wp-content/uploads/2014/10/logo-icon.jpg
230
250
Russ
https://arcmktg.com/wp-content/uploads/2014/11/logo.png
Russ
2015-10-20 07:27:26
2018-01-04 11:50:26
Make More Money for Your Fundraiser