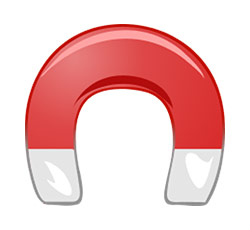 School Car Magnets…
Your new custom car magnet does not have to be round or oval shaped (although those are the most durable shapes). Your new car magnet can be almost any shape, and we do not charge extra for uniquely shaped magnets.
Die Cut Letter Magnets, like those shown above, are very popular with schools. Combining your school colors with your letter or initials, and adding the school name creates a very impactful car magnet.
One downside to the die cut letter magnets is that there is not much room for words. Adding more than just the school name can mean hiding the die cut letters behind all of the text. Since the most effective car magnets have just one or two words (don't forget that most people will be trying to read your car magnet from several car lengths away and sometimes at freeway speeds), our die cut letter magnets get your message out there. The key is to be bold with your school initials and school colors, but keep the text to a minimum for greatest impact.
Let our expert designers help you with your design (at no charge!). Give us a call at 760-743-6340 and let's get your new magnet designed.
https://www.arcmktg.com/wp-content/uploads/2014/10/logo-icon.jpg
230
250
Russ
https://arcmktg.com/wp-content/uploads/2014/11/logo.png
Russ
2015-08-21 13:40:00
2018-01-04 17:06:20
Die Cut Letter Car Magnets for Schools