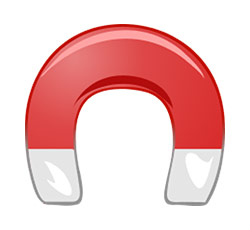 We make a lot of soccer magnets… a lot! This past year, we made more magnets for youth soccer clubs than we made youth football car magnets. That's the first time that has happened.
Soccer season is long. In professional soccer it stretches out for 10 months. That's longer than professional basketball and professional hockey, which never seems to end.
Youth soccer has a similar season. In fact, some teams and leagues squeeze two seasons into each year (a spring season and a fall season).
Soccer might also be the most participated in youth sport. I'm pretty sure that there are more soccer players than football players in the U.S.
Soccer might not be as expensive for a parent as some of the other team sports. Football, baseball and hockey all need a ton of expensive equipment, and you need to buy those every year (because your young stars are growing like weeds).
But that doesn't mean that soccer is cheap. Even though there is less equipment to buy, what equipment is needed is not inexpensive. Add league fees and other ancillary items and you're still looking at a blow to your budget. Soccer Camp? Get ready to cough up another few hundred.
This is where fundraising comes in. Most leagues have a fundraising leader and that person's job is to find ways to raise extra money. Usually, this extra money is used to offset what each parent needs to pay (your league fees would be even higher without these fundraising efforts).
Most leagues run several fundraisers throughout the season. Most are very labor intensive (car washes, bake sales, etc.) and might make a hundred dollars or so for all your effort. But there is one fundraiser that needs very little labor to pull off, plus it can make hundreds of dollars very easily. Of course, I'm talking about a custom car magnet fundraiser for your team or league.
With the proper design, these magnets will practically sell themselves. Speaking of the design, the art department at ARC Marketing is going to do all the heavy lifting for you at no charge. We'll design and print a killer magnet for your league that everyone will want. You just need to sit back and sell magnets. Easy.
Ready to get started? Give us a call at 760-743-6340 or visit our website at www.arcmktg.com
https://www.arcmktg.com/wp-content/uploads/2014/10/logo-icon.jpg
230
250
Russ
https://arcmktg.com/wp-content/uploads/2014/11/logo.png
Russ
2019-05-30 13:56:28
2020-11-25 09:32:49
Soccer Magnets for Fundraising