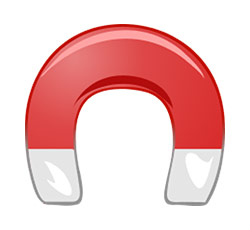 Round Car Magnets or Oval Car Magnets?
Here we go. Another "either or" argument. Follows the other age-old major decisions like "boxers or briefs", and "paper or plastic".
Well, it's one of the most polarizing topics in this very polarizing time. Let's get into the weeds and determine which is better… round car magnets or oval car magnets.
To begin with, both the oval and round magnets are the most durable shapes. They both offer a single, continuous edge with no sharp corners that can wear over time. Square magnets and intricate die-cut magnets (we make those also) have sharp corners that can start to fray over time, which can lead to the magnetic material failing (doesn't happen often, but the potential is there). And by "over time", we mean several years so don't be too worried.
Our standard round car magnet is a 5-inch circle. Normally we put your logo, mascot or other graphic into the center. We try to make the "center" of the magnet a 4-inch circle, leaving a half-inch border for text.
Our standard oval car magnet is 6 inches long and 4 inches tall. Again, we will put your logo or other graphic in the center. The center of both magnets is where your eye is drawn toward, so the most impactful part of your magnet should go there.
We like to make the type as large as possible without running into kerning or spacing issues. We want the type to be a strong contrasting color to the border color so that it stands out and can be legible from the car behind you at the stop light.
The oval magnet works better for linear logos (logos that are wider than they are tall) since this shape offers more room from left to right. The oval magnet works better also for designs that have a lot of words. You can fit more words on the top and bottom arc of the oval magnet because the curve of the arc is more subtle. On the round magnet, longer phrases tend to invert slightly when they reach the midpoint (9 and 3 o'clock).
I realize that none of this really settles the argument of Round vs. Oval magnets, but it might help you decide on the best shape for your magnet.
Let our team of professional graphic artists help you with your new car magnet. Round or oval, we'll find the best design for you!
https://www.arcmktg.com/wp-content/uploads/2014/10/logo-icon.jpg
230
250
Russ
https://arcmktg.com/wp-content/uploads/2014/11/logo.png
Russ
2019-05-13 10:48:27
2023-04-27 08:42:45
Round Car Magnets or Oval Car Magnets?