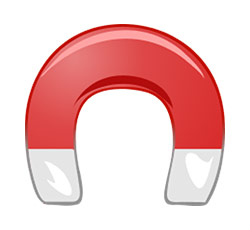 Humans vs. Robots
Sounds like a bad science fiction movie, right? Actually, it's a decision that you need to make when choosing a company to design and print your fundraising car magnets.
Most car magnet websites offer "Free Magnet Designs", and we are among those companies offering this service for free. We use human artists on 100% of our designs. But most of the rest use software to design their magnets. Worse yet, you (the client) are in charge of running the software, with little or no support if you run into problems. You must choose your colors from a pallet of about 20 colors (any more than that would confuse their robots, I guess). You can choose from a stock portfolio of a few clip-art mascots, you have your choice of about 5 fonts and that's about it. So, your magnet is going to look just like the last magnet they made using that same "Cougar" logo. Cookie Cutter Magnets. Boring.
Human artists cost more than robots. That's an unfortunate fact for us, because we have human artists create all our designs. Could we save money by using this same software? Of course, we could, and this software is readily available. But this would leave our clients with the same boring designs offered by our competition.
Here's the bottom line… you can have a real, human artist at ARC Marketing work with you to create the perfect fundraising car magnet, or you can struggle alone, trying to get your magnet design to fit into a software template created to pump out generic magnets. Working with our art department is fun, working with those templates is frustrating.
So, should you choose fun, or frustrating. I think you know the answer to that one. Give us a call at 760-743-6340 or visit our website at www.arcmktg.com to get started on your free design.
https://www.arcmktg.com/wp-content/uploads/2014/10/logo-icon.jpg
230
250
Russ
https://arcmktg.com/wp-content/uploads/2014/11/logo.png
Russ
2017-04-17 08:03:10
2018-01-03 17:47:24
Humans vs. Robots