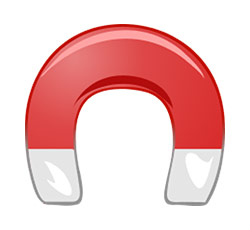 Attention Greeks… this is a great way to make money and show everyone around school that you are the best Frat House or Sorority on campus.
Our 6 inch oval magnet is very subtle, and blends into all cars quite well. It doesn't matter if you drive a beat up old Civic while at school, or if daddy bought you a new BMW, these car magnets just look right.
But the subtlety ends when you put your Greek Letters on this magnet. Suddenly your car is transformed from just a simple means of transportation to a rolling billboard for your Frat or Sorority. Can you imagine the frustration of a rival Frater in the car behind you at that stop light? Having to sit there and stare at your SAE or TKE car magnet? It might just be enough to make him switch teams.
Most Frats and Sororities will only want their 2 or 3 Greek Letters on their magnet, but some (like the Alpha Kappa Delta magnet shown above) will want a little extra added. You might want your Fraternity Crest on there somewhere, or your Chapter Name. It doesn't matter what you want, our job is to design a magnet that will make you, your fellow members and your Alumni proud. Designing the best looking car magnets in the world is what we do. Nobody does it better and we do all of the design work for free.
Taking care of your new car magnet could not be easier. Just slap it on the back of your car, and make sure those Pledges take it off before they wash your car. That's about as close to hazing as you can get in 2015.
Are you ready to be the Best Greek House on campus? Just give us a call at 760-743-6340 and we'll start working on your free magnet design.
https://www.arcmktg.com/wp-content/uploads/2014/10/logo-icon.jpg
230
250
Russ
https://arcmktg.com/wp-content/uploads/2014/11/logo.png
Russ
2015-11-02 08:42:49
2018-01-04 11:17:27
Sorority and Fraternity Car Magnets